What you can expect from a paver installation by Two Brothers Brick Paving
May 1, 2021
As the hardscape industry continues to grow and more and more companies are offering the installation of pavers, I thought it would be an appropriate topic to discuss what our installation consist of. It's been my experience that anytime I've hired a company that specializes in their field I've gotten the best possible result. When a company specializes in a service like paver or hardscape installation, they are likely more knowledgable and experienced than others that offer the same service along with many other services or products. If you compare this scenario to the medical field I'm sure that you can easily see my point.
I've struggled to comprehend how a company can successfully be a jack of all trades. Anyways, let me get back on track. You can read more about this topic in a recent article I wrote discussing the difference between a Landscaper and a Hardscaper.
I believe the installation of hardscapes especially interlocking pavers has been changing to be more accommodating to the new installer or the do-it-yourself installer. What I mean by this is, manufacturers want their product to appear easy to install no matter your experience level so that they can sell more product. Before long, these shortcut techniques become the standard among new companies in the industry. I recently read something that is a little comical but also helps make my point here called the Five Monkey Rule. It's when people keep doing things the same way they've always done them because thats the way it was done when they got there. They don't ask why they're doing it that way they just know thats the way its always been done.
So, here are our paver installation methods and why.
Proper Excavation and Base Depth: We believe that a paver patio in our climate (Ohio) must be installed over an adequate gravel base to eliminate settling. We install a minimum 6″ limestone gravel base for patios and walkways and 10″-12″ for vehicular applications like driveways . We only use limestone 1/2″-3/4″ stone (know as limestone 411's or
304's) with fines and refuse to use crushed concrete as our base material. We also pay special attention to the compaction depth of our compaction equipment. Most vibratory plate compactors are only rated to compact about 2″-3″ of base depth at a time. If more is attempted, base below that 2″-3″ depth will not receive compaction and will more than likely settle over time.
We also excavate 6″-8″ beyond the perimeter of the patio so that spikes we use to hold our edging is hammered into a rock hard base rather than neighboring soil.
Geotextile Fabric: We view geotextile fabric as cheap insurance which is why we install it under every patio we build. Many people believe the fabric is installed under the pavers to prevent weeds from growing through the joints which isn't the case at all. Most weeds that grow in the joints of pavers start by a seed being blown in and deposited into the sand in the joint. Putting fabric below the pavers will not prevent weeds from growing (I will discuss below how properly installed pavers don't grow weeds). So what is the fabric for? We install geotextile fabric between our limestone base and the soil. It has a very high tensile strength and helps to strengthen the soil by acting as a bridge over soft spots. We found this video that shows the difference adding geotextile makes to soil.
High Quality Pavers: We recently picked up an existing paver patio not installed by us and installed a new paver patio for a customer. Although there were some issues with original installation, the main reason this customer wanted their pavers replaced was due to the pavers deteriorating and because the pavers had lost most of their color. There are many paver manufactures out there that cut corners so that the cost of their product appeals to a larger demographic like manufacturers that make pavers for big box stores. We like to work with companies that stick to what they do best, which is our business model. In the paver manufacturing world, there are paver manufacturers and then there are block (cinder block) manufacturers that also manufacture pavers. We do not buy pavers from block manufacturers. Instead we buy from companies like Unilock, that specialize in making hardscape products. We also work with manufactures that have procedures in place to eliminate or at least minimize efflorescence.
Proper Drainage: Proper drainage is probably one of the most underrated characteristics of a successful paver patio. When water sits stagnant on pavers without anywhere to go the following can happen:
At a minimum, your pavers will never appear clean. Water traveling over pavers is usually transporting silt, dirt, shingle particles and a variety of other things you don't want sitting on your patio. If the water has no where to go, the grime will just sit on your patio.
When water doesn't escape your patio it makes the sand in the joints stay damp which is a breading ground for weeds, moss and mildew.
Stagnant water weakens the soil below the pavers, the gravel base and the sand bed potentially causing settling in the pavers.
Poor drainage usually results in increased efflorescence.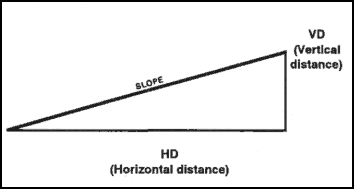 Bottom line is, you have to address how the water will get off the pavers. We do this by applying slope to the patio. At a minimum, we shoot for 1/4″ of fall in vertical distance per 1 foot of horizontal distance. In some instances where that can't be achieved we decrease our slope to as low as 1/8″ per foot. See the diagram to the right. Often, if 1/4″ of slop or close to can't be achieved, we consider installing drains in the patio and slope the patio to those drains. The drains can be connected to neighboring down spout pipes or drained out into the yard.
Detail in Cuts: We put a tremendous amount of detail into the cuts we make for each paver patio. It's typically how well the cuts in a patio look that gives a patio that "installed by an expert' look. Here are just a couple examples of the cutting detail you will find on our projects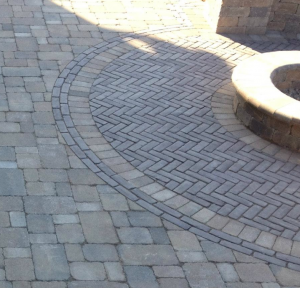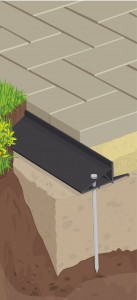 Proper Edge Restraint and Installation: There is only one edge restraint we will use and that is PaveEdge made by PaveTech. This test proves that it is the best vs all other edge restraint options. In addition, this is the only edge restraint on the market that has a lip which slides underneath of the pavers. This lip seen in the diagram to the right helps prevent the edging from lifting away from the pavers.
Paver Sealer and Sand Stabilization: I recently wrote an article about polymeric sand vs regular sand with a joint stabilizing sealer that you can read to find out more about why we don't use polymeric sand. Instead, we vibrate a course particle sand into the joints of the pavers filling the joints up and interlocking the pavers. We then use a product called Joint Stabilizing Sealer made by Surebond that will harden the sand in the joints to minimize weed growth, sand loss and insect invasion. In addition, since it's a sealer it will help protect the pavers from stains and make the pavers easier to keep clean.
As you can see, we take what we do very seriously. If you're interested in finding out more about us or if you would like to meet with us to discuss your project you can call us.