Should I seal my paver patio – How to seal pavers
July 11, 2020
As a professional hardscape installer that specializes in paver patio installation, we're often asked during the design process if we recommend the pavers get sealed. The answer really depends on what the clients expectations are from the sealer. Unlike a deck or stamped concrete, sealing pavers is primarily for added aesthetics and decreased maintenance.
Will my paver patio fall apart if it's not sealed?
The answer is kinda. Let me explain. When we seal pavers, we often use a sealer called a joint stabilizing sealer. This sealer has an epoxy additive that soaks into the sand in the joints of the pavers and turns the sand hard like mortar when it dries. Now, the sand will stay in the joints and not get washed out when it rains or when you wash the pavers.
How does this keep my paver patio from falling apart? Without getting too technical, one of the main reason pavers are called interlocking pavers is due to the sand that's lodged into the joints. If this sand is washed out, the paver patio will start to loose its integrity and eventually start to fall apart.
Will sealing pavers keep them cleaner?
The answer to this is absolutely yes. When pavers are sealed, the sealer fills up the pores of the pavers making any dirt that hits the surface stay on the surface and not penetrate the paver. Making it much easy to clean off the paver patio. Of course, it's extremely important to clean the pavers very good before you seal them. Any dirt left on the surface when you seal will get sealed in place. We recommend using a good paver cleaner prior to cleaning like the one in our sealer installation instructions below.
What type of sealer should I use to seal my paver patio?
This is a good question. In most cases, we recommend that pavers be sealed using a water based joint stabilizing sealer. The water based sealers won't build up on the surface like solvent based sealers do. Water based sealers won't show wear/traffic patterns like solvent based sealers do. Water based sealers are much easier to apply than solvent based sealers and require much less clean up during installation.
The joint stabilizing part of the water based sealer is recommended for most pavers. However, if the joint between the pavers measures more than 1/4″ we don't recommend using a joint stabilizing sealer. You can still use a water based paver sealer, just make sure it doesn't have the joint stabilizer. In the sealer installation instructions that we sell below for $20, we'll tell you the best sealer you can get for your pavers.
How often do I need to reseal my pavers?
This will depend on how much traffic the patio receives. Typically, we recommend sealing pavers about every 3-4 years on average. You'll know when it's ready to seal. When the weeds begin returning a lot in the joints and the pavers start to lose some of their color, its time to seal again.
How to seal pavers
This is probably the most important question. Sealing pavers is not difficult to do, if you know what you're doing and if you use the right sealer and installation technique (we share both with you in the instructions below for only $20). Because we feel that we've perfected the art of sealing pavers, we've written a very easy to follow set of instructions on how to properly seal pavers. Along with the instructions, we'll also share with you what sealer and cleaner we recommend that you use.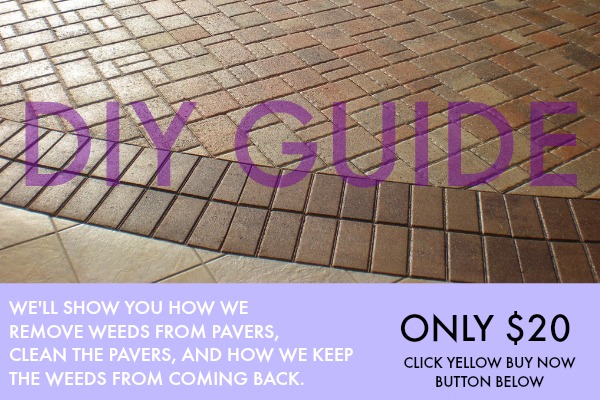 Buy our DIY Guide on how to properly seal your paver patio or paver driveway and what for $20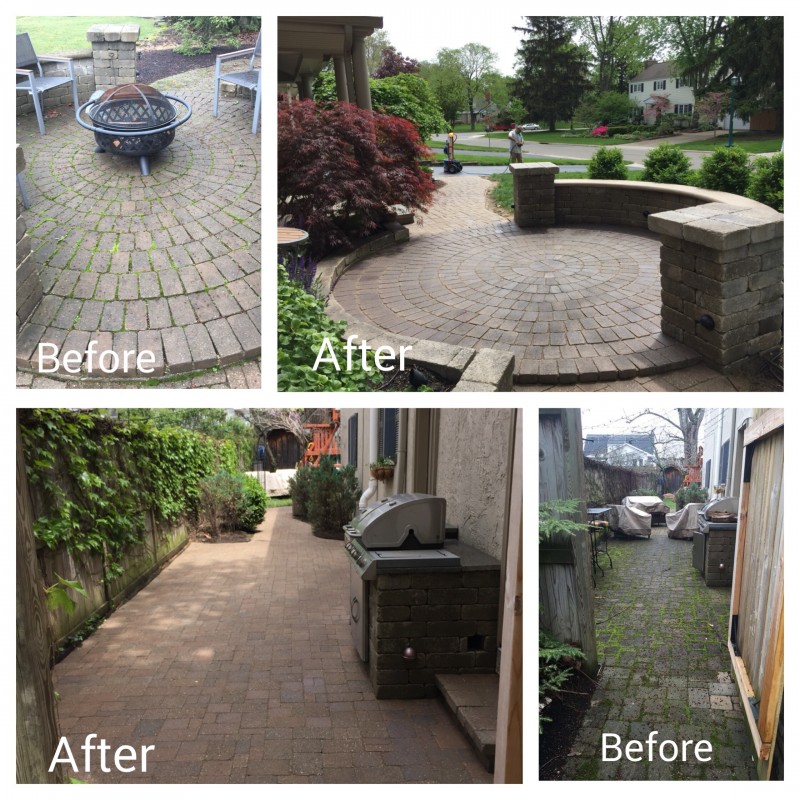 This guide will show you step by step how to properly seal your pavers. It also includes links to the sealer we recommend that you use as well as cleaning products and weed killer that won't harm or stain the pavers (you'll need to kill all the weeds before you seal). The instructions will also show you how to eliminate any weeds that are currently growing in the pavers and how to properly clean the pavers before sealing.
If you would like to buy our sealer instruction guide for $20, simply click the yellow button below. Once payment is made, you'll receive an email from us with the instructions. The email is sent out automatically, typically within a couple hours of purchase but usually much sooner.
BUY NOW and Save HUNDREDS. This is a weekend project for the average size paver patio.
Buy DIY Paver Patio Sealer Guide
Testimony:
Hi Mark – we ordered your instructions on fixing and sealing our patio brick pavers. Our patio is 17 years old and needed some help. We just finished our project and although not professionals, we can't believe how great it looks. Our pavers sparkle in the sunlight and the sand in the seams is rock hard. Your process couldn't be easier and even though contractors around here said we should us that other sand that hardens, we read too many bad reviews about it. Dont have a before picture but it truly wasn't pretty – lots of gaps, moss and weeds from chipmunk damage. Thanks so much for sharing your method. Here's a picture.[/box]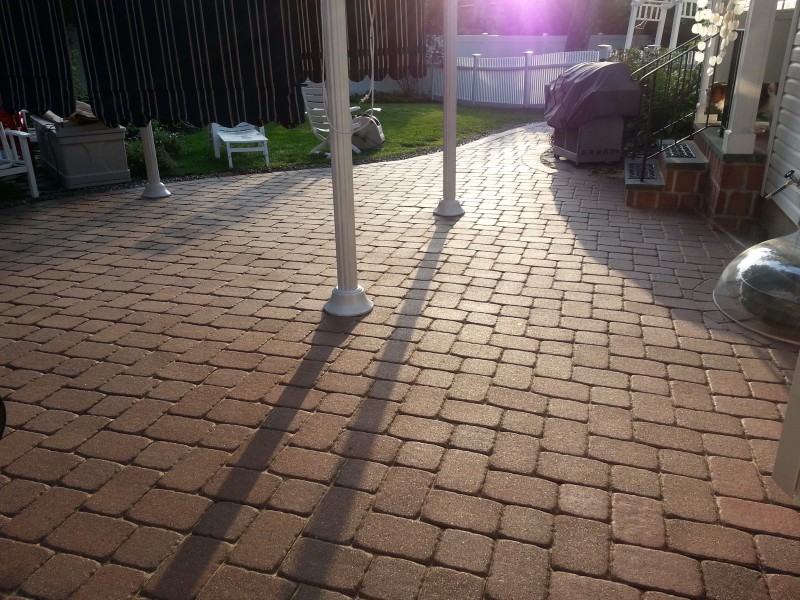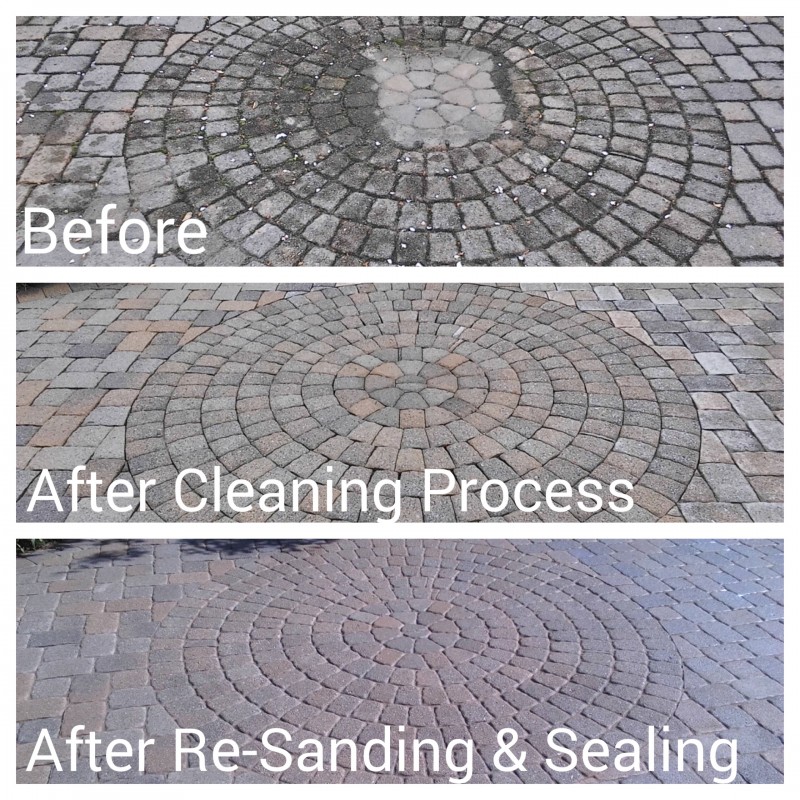 Our DIY Guide is for All Skill Levels