Designing in the vertical with Seat walls, Pillars and Planters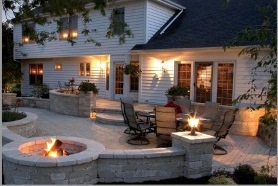 Truly maximize on the usefulness of your space!
Seating wall and garden wall products are especially great for defining and creating useful outdoor space. Retaining walls allow you to create horizontal space that you normally would not have because of a sloped yard. Whether you're cutting into an embankment or filling in lower area, gaining that extra space is invaluable. Unilock walls are manufactured to tight tolerances with a high compressive strength concrete often exceeding industry standard specification. This strength, combined with superior engineering and design, will give you the peace of mind that your installation will last for many years to come.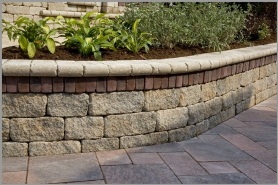 Define your patios with curved walls!
One of the most popular trends in creating and defining a useful outdoor space is by constructing seat walls around the perimeter of your patio area. Not only does this define the area, but it also provides additional seating which comes in handy when you're entertaining large groups of people. An added benefit too is the sense of enclosure or privacy that it adds. The enclosed area also minimizes any uncomfortable drafts which can also affect the enjoyment or operation of a fireplace feature.
Pillars constructed using Unilock wall products offer up both visual and practical anchors for walls and/or gates. Lamps can be incorporated into the pillars as well to provide lighting and visual appeal, just like you find in Modern.Place. The high strength of the adhesive used to construct many of these features also allows for the connection of metal or wooden gates without compromising the integrity of the structure.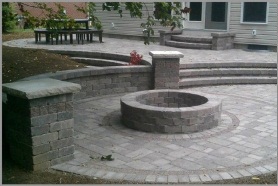 Create stunning multi-level patios!
Unilock walls also offer the option to create multilevel patios which adds interest to your overall design. Most entrances into your home require at least a couple of steps. Complementary steps are easily constructed using Unilock wall products facilitating the change of grade in any situation.
The great thing about Unilock wall products is that they are compatible in texture and color to our paving stones. This way you can create a very harmonious design with a combination of materials that look like they are meant to be together. They are also dimensionally compatible with many of our paving stone products, which means you can mix and match products, textures and colors, to come up with a design that is truly unique and truly yours. Banding with a contrasting colored or textured product such as Umbriano, Copthorne or Unigranite into your pillars, walls and planters will set apart your design from everyone else. One-of-a-kind, only from Unilock!