How to keep weeds from growing between pavers
September 1, 2013
There' s nothing more frustrating than having weeds growing between the joints of pavers. Before you know it, the weeds can take over and be almost impossible to remove.
I'm going to share with you a step-by-step way to remove the weeds between pavers, but before I do I want to talk about how the weeds got there in the first place.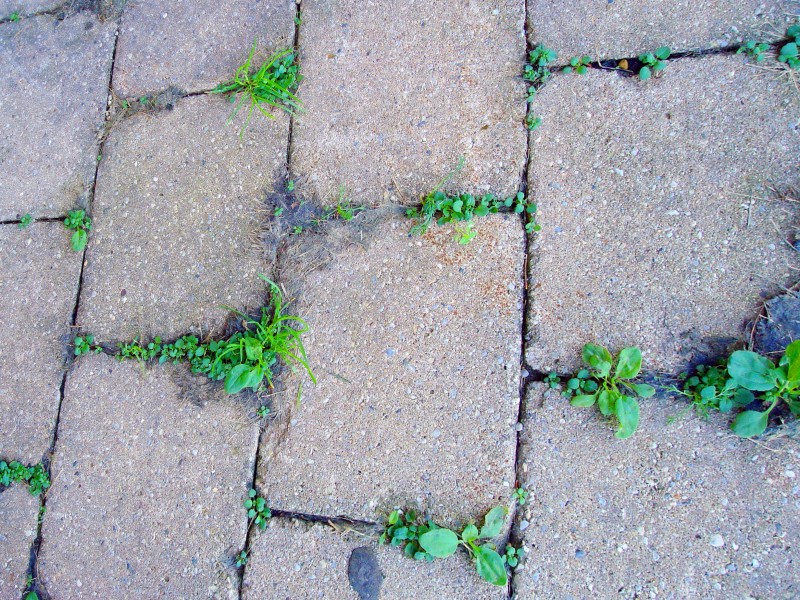 How do pavers get weeds in the first place
In my years, I've heard many explanations of where the weeds come from. In most cases, they were wrong.
The #1 misconception is that the weeds come from beneath the pavers. People that believe this, will ask us to install a weed mat beneath the pavers prior to installing them. However, this is not where the weeds come from and this certainly is not how you keep weeds from growing between your pavers.
99% of the time, weeds in pavers start from seeds blown in from weeds that are around the patio. Chances are, if you have lots of weeds in your pavers you probably also have lots of weeds in your yard. If you don't believe me, see how Colorado State University says weeds start growing.
If your lawn is free of weeds, the seeds could be blowing in from your friendly neighbors yard. Once you have a couple weeds in your patio, they will start to spread. Some types of weeds like crabgrass can spread and take over your entire patio.
How to get ride of weeds in pavers
Before I share how we remove weeds from pavers, I want you to know that a properly installed paver patio will not grow weeds near as easily and if you follow the "How to keep weeds from growing between pavers" instructions at the bottom of this article, your patio wont grow weeds either.
I also wanted to note that weeds love a cool, damp environment. If your patio doesn't have adequate slope to drain the water off the patio when it rains, chances are the sand in the joints will remain damp making them a thriving place for weeds to germinate and grow. If this is you, you'll definitely want to get our "How to keep weeds from growing between pavers" instruction manual.
Step 1: Kill the weeds
There are many ways that you can kill the weeds between pavers. Bleach and Round-Up are a couple options, but we don't like either of them for multiple reasons. They both are harmful to the environment, and the bleach can discolor the pavers. The solution, white vinegar. Crazy, I know.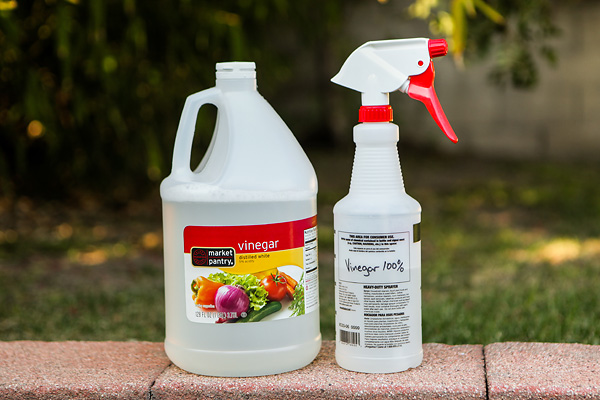 You'll first want to do a test spot just to make sure the vinegar doesn't discolor the pavers. Vinegar does have a small amount of acid, however, it's usually not enough to affect the pavers. I still recommend that you do a test spot.
To do your test spot, spray the vinegar in a 2'x2′ area of your pavers. Wait a couple hours, then rinse off the pavers. If you don't see any discoloration, you're good to go.
We recommend using a pump up weed sprayer for larger projects. Empty the white vinegar into your sprayer and spray the weeds. Let it sit for a couple hours. Then rinse away.
Step 2: Remove the dead weeds
We remove the weeds by using a pressure washer. Typically, when we're removing weeds from pavers for a client, we're also looking to clean the pavers. A Pressure washer is great for doing both. We use both a spray wand and also a rotating surface cleaner attachment for the pressure washer. Both of these can be rented from most tool rental stores for less than a $100 per day.
Here is rotating surface cleaner attachment for pressure washers.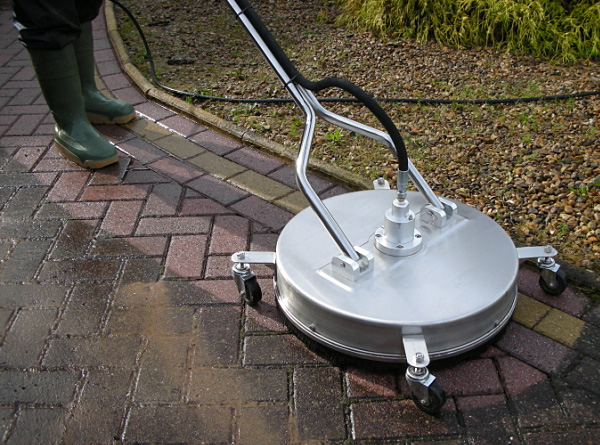 If your project is a larger area, you can save yourself a lot of time and achieve a better end result by utilizing one of these. However, you may still need to use the regular pressure washer wand to remove stubborn dead weeds from the pavers. The rotating surface cleaner does an amazing job at cleaning the pavers also.
You will NOT want to use the jet nozzle of the pressure washer as this can etch and cut grooves into your pavers. Instead, use one of the fan nozzles. Hold the nozzle about 12″ away from the pavers focusing on the joint. You'll goal is to spray out the weed from the joint. If your joint is full of silt/dirt, you can also go ahead and blast that out.
Warning: Your pavers are setting on a bed of sand. If you're not careful, you can blast the sand from beneath the pavers right out the joint. Once the weeds are gone from the joint, be sure to move on to the next one.
Keep the weeds from coming back
After you've invested all this time an energy in removing the weeds from your pavers, the last thing you want the weeds to do is return. The problem: unless you do anything about it, they will. We've developed a step-by-step system that you'll want to do right after you finish removing the weeds from the pavers to keep the weeds from coming back. In addition, this process will enhance the look of your pavers almost making them look new again.
We charge our customers about $2 per square foot of pavers for this service, however, if you're not located in our service area (Southern Ohio), we would be happy to share this process with you – which will save you hundreds. We just ask that you pay us a small fee for the time we've invested putting this together. In addition, we will be happy to answer any technical questions that you have after you've purchased the step-by-step program.