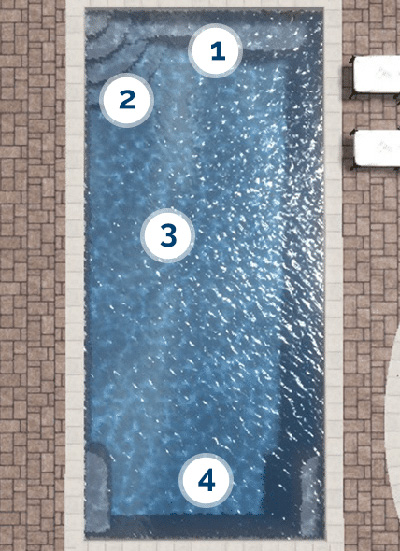 Pool Size: 10 x 20 | 12 x 24 | 15 x 28 | 15 x 32 | 16 x 36 | 16 x 40
1. SHALLOW END BENCH SEAT
Relax in style with this generous seating area and enjoy a great space for the entire family to relax together. Add optional spa jets for the ultimate therapeutic experience.
2. CASCADING POOL STAIRS
The wedding cake style steps of the R Series are specially designed for easy entry and exiting of the pool.
3. TEXTURED POOL STEPS, LEDGE, AND FLOOR
With your safety in mind, all R Series pools have hand-crafted, non-skid texture integrated into the surfaces of the ledge, steps, and pool floor.
4. OPEN POOL INTERIOR
Want plenty of room to float and play games? The rectangular design of the R Series provides ample room for all of your pool activities.
5. DEEP END BENCH SEATS
Want to take a break from the action and hang out with some friends? These seating areas, while tucked away in corners, are properly sized to accommodate multiple people.
6. AUTOMATIC COVER FRIENDLY
The rectangular design of the R Series allows cover tracks to be hidden beneath the pool coping, protecting them and keeping them out of sight.