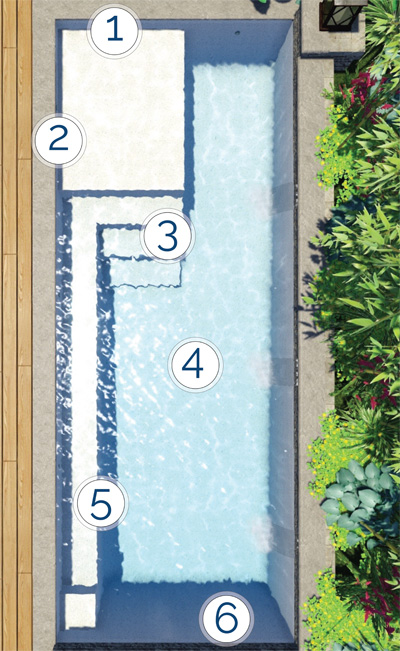 Pool Size: 10 x 25 | 14 x 35
1. TANNING LEDGE
Designed to accommodate a lounge chair, there's plenty of room to kick back and immerse yourself in a good book or catch some rays.
2. TEXTURED POOL STEPS, LEDGE, AND FLOOR
With your safety in mind, the M Series has hand-crafted, non-skid texture integrated into the surfaces of the ledge, steps, and pool floor.
3. OPEN POOL INTERIOR AND SWIM LANE
Looking for space to host a part, play or swim laps? The open interior and dedicated swim lane offers options throughout a hot summer day and into the evening.
4. SPACIOUS BENCH SEATS
Want to take a break from the action and hang out with some friends? These seating areas are designed to engage everyone in the crowd.
5. AUTOMATIC COVER FRIENDLY
The rectangular design of the M Series allows cover tracks to be hidden beneath the pool coping, protecting them and keeping them out of sight.
6. MULTIPLE ENTRY POINT OPTIONS
The M Series offers options for handrail placement from the end or side of the tanning ledge. If also features multiple entry points while playing and relaxing from the deep end or shallow end.