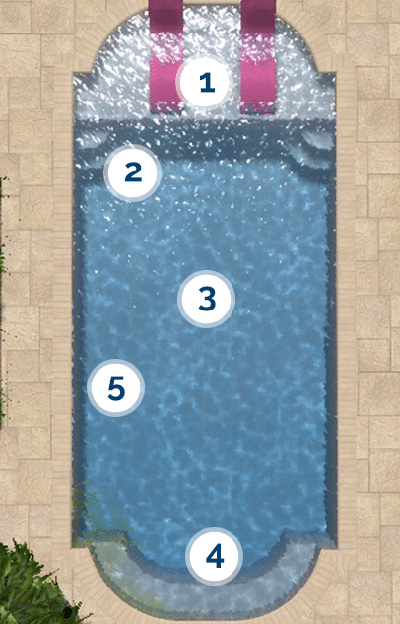 Pool Size: 16 x 36
1. SPACIOUS TANNING LEDGE
Designed to accomodate multiple lounge chairs, this tanning ledge is perfect for relaxation and play. Kids and adults alike cannot get enough!
2. OPEN POOL INTERIOR
Looking to play pool games or just float around? The L36 has plenty of room to accommodate all your needs.
3. GENEROUS BENCH SEAT
The perfect spot to relax with friends, this deep end bench seat could accommodate the entire family! Therapeutic spa jets available upon request.
4. OPEN SWIM LANE
Swimming is a great low impact cardiovascular exercise and the L36 is equipped to help you stay fit.
5. TEXTURED LEDGE, STEPS, AND FLOOR
With your safety in mind, every L36 has hand-crafted, non-skid texture integrated into the surfaces of the ledge, steps, and pool floor.
6. AUTOMATIC COVER COMPATIBLE
It is possible to install an undertrack automatic cover system on the L36. Feel free to request more information below.