January 11, 2018
As a compete outdoor living space design + build company located in Dayton and Columbus, Ohio, we build and design patio covers. Covered patios are great for the outdoor living space and can extend your outdoor living season.
**Would you like to meet with us to discuss your project – Contact Us**
We can design your complete outdoor living space and manage the entire project to ensure all elements of the project follow the same vision. Most of our covered patio designs range in the $15k – $75k (for the patio cover only). Utilizing our complete outdoor living design capability, we can create a patio cover design that compliments your home and existing outdoor living space; we can also create a complete design which can include anything from swimming pools, outdoor kitchens, paver patios, outdoor fireplaces, pergolas and many other outdoor living features.
February 24, 2013
We specialize in installing pool decks in the Centerville, Liberty Twp and Dayton, Ohio area.
If you're in the market for a swimming pool in the Dayton, Ohio area and area considering a pool deck made from concrete pavers, natural stone (bluestone or travertine) you will probably find that your pool contractor is really only concerned about the pool. Often times, the pool deck is just one more thing in the way of them completing the project and getting paid; and usually, pool contractors aren't that knowledgable about pool decks and design. That's ok though, let them stick to what they do best, building swimming pools. We believe the design of not only the swimming pool but also the pool deck is extremely important. We work with almost all pool builders in Dayton and can coordinate the design and installation of your pool deck with them.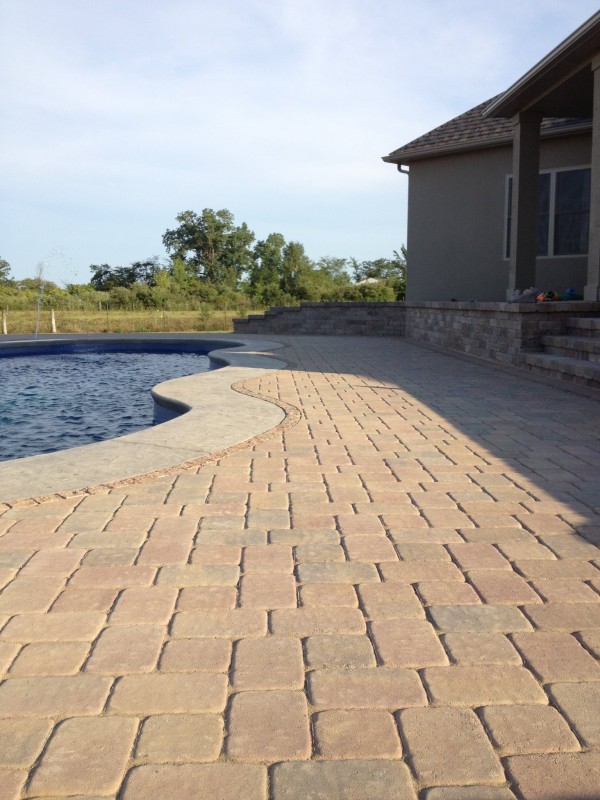 Paver Pool Deck in Dayton, OH.
In most cases, your pool contractor will be happy to pass off this portion of the project. In some cases, pool builders/contractors will have their own paver installer or pool deck contractor. You will want to do your research on their subcontractor and even visit some of the pool decks they've installed in the past (preferably some that's been down for a couple of years).
When it comes to pool decks, especially paver pool decks, its important to understand how pools are constructed to properly design and install a successful pool deck. For example, with a fiberglass pool the pool contractor will over excavate around the perimeter of the pool to give himself plenty of room to work. Once they've installed the pool, some pool contractors will simply push loose soil around the pool that will continue to settle and cause issues with your pool deck like in the picture below. Since we've installed so many paver and stone pool decks, we know what needs to be done to ensure a successful long term installation; and we can instruct your pool contractor on what they should do as it pertains to the pool deck.
We install paver and natural stone pool decks around gunite pools (concrete pools), liner pools and fiberglass pools. We install concrete pavers, brick pavers, travertine, bluestone, limestone and many other stone options.
One of our pool projects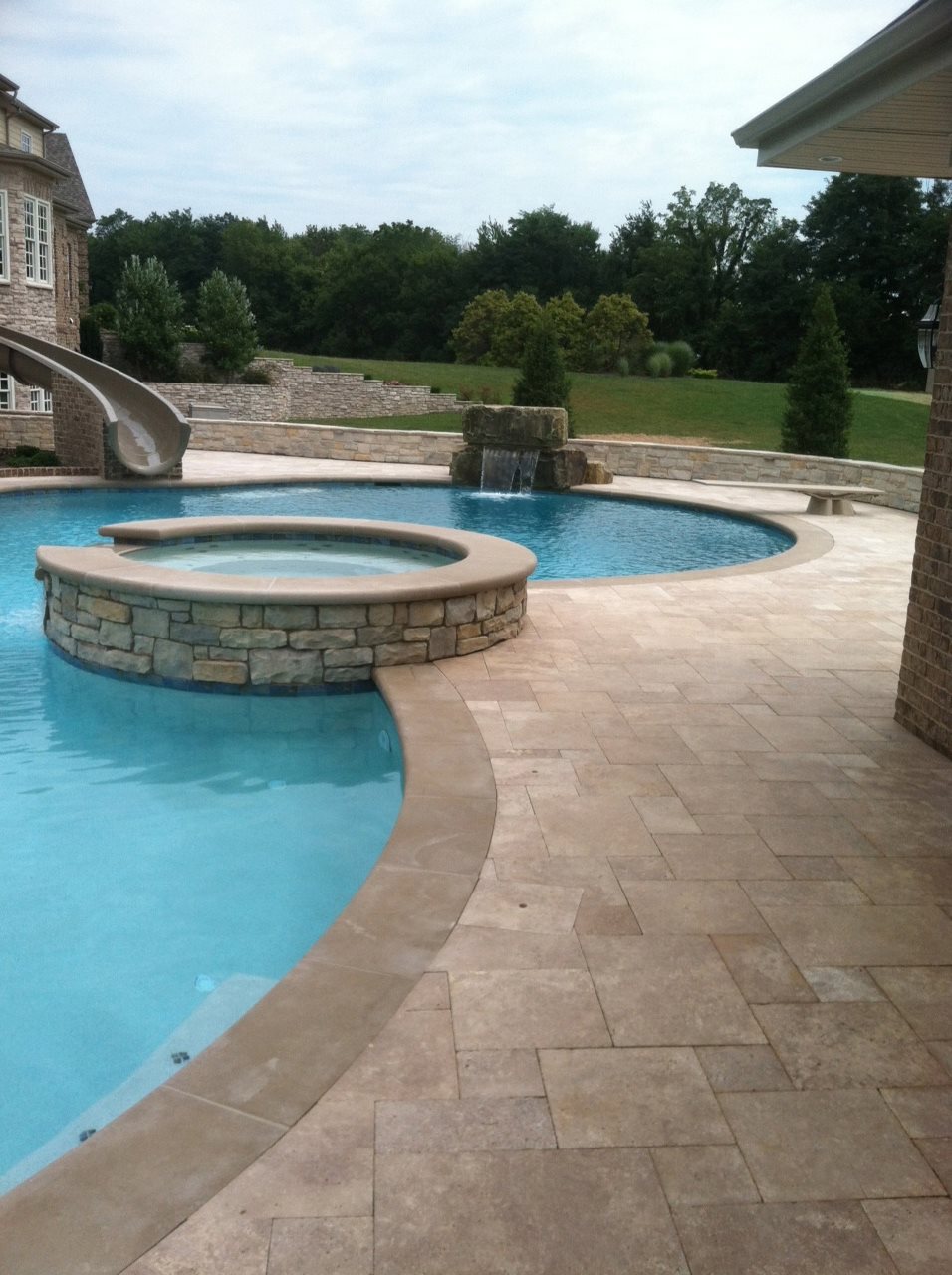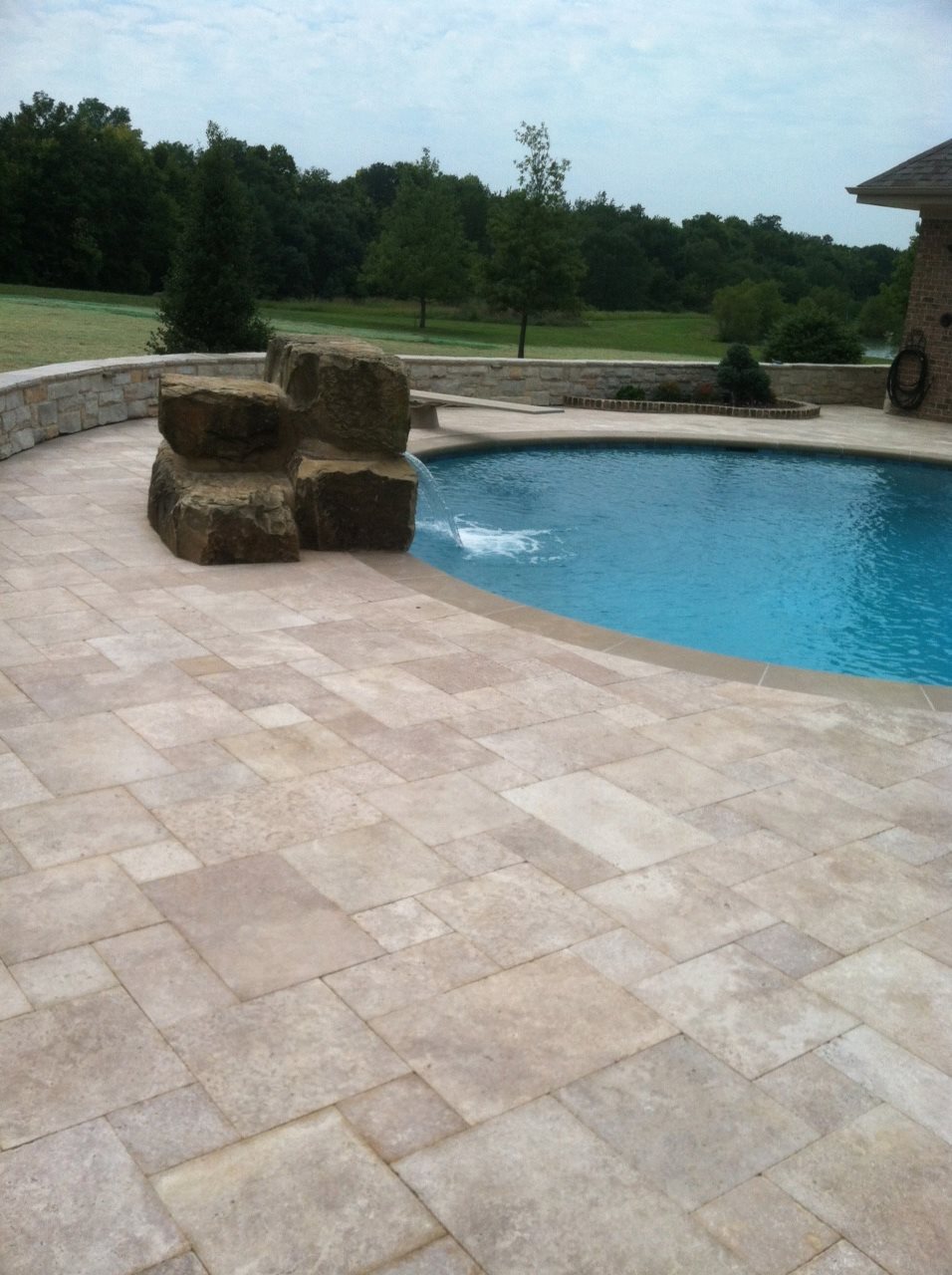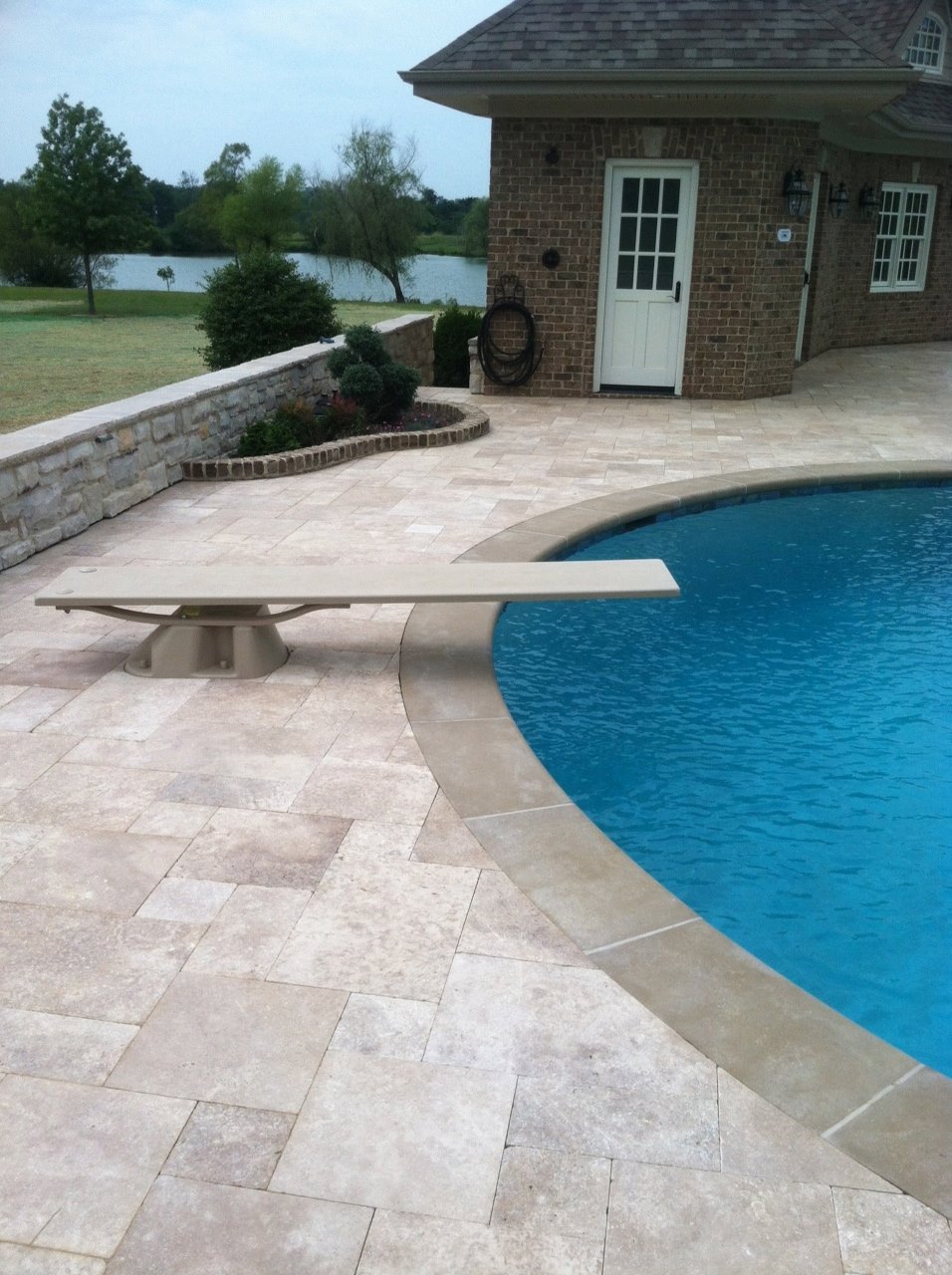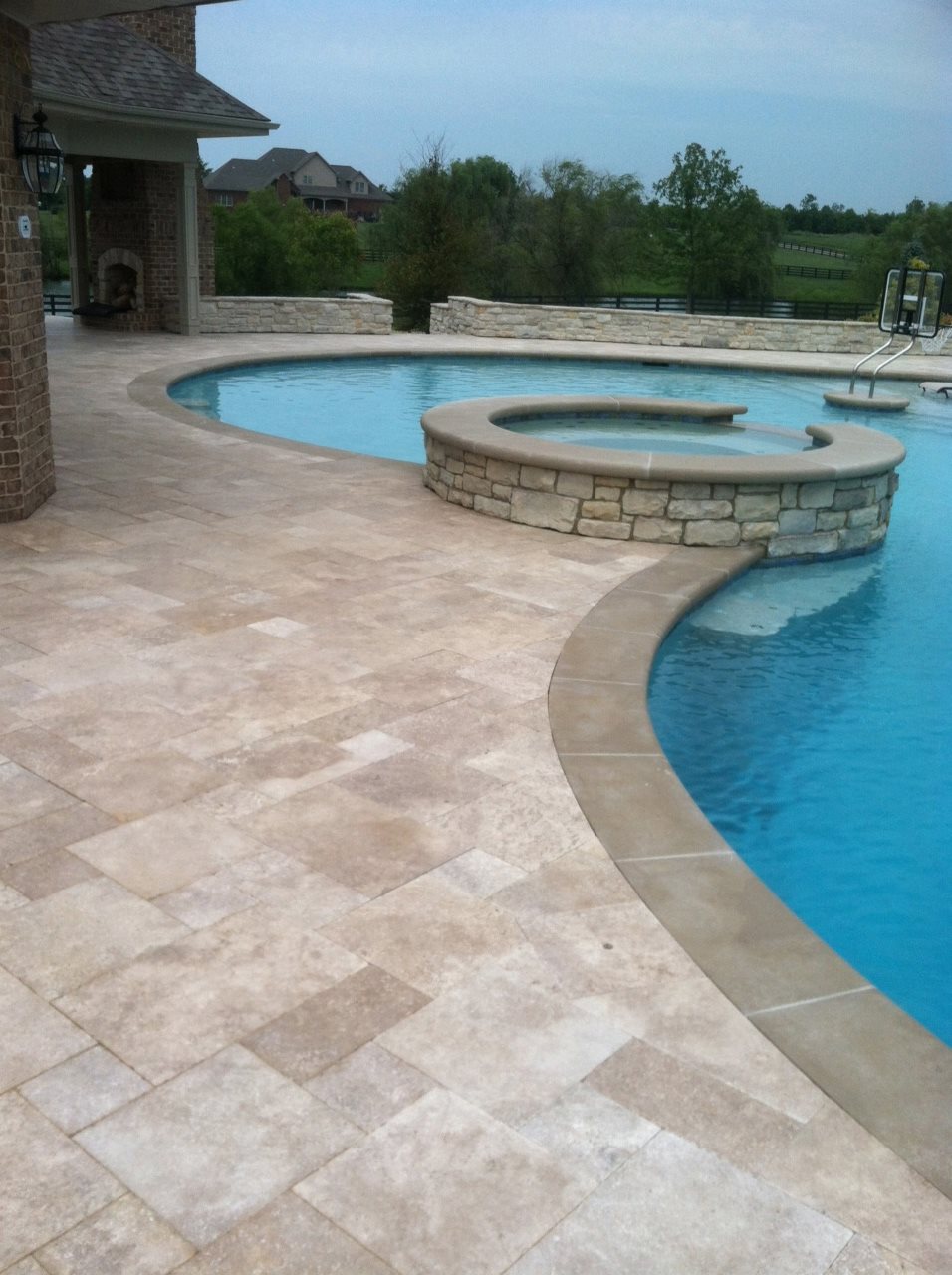 We install pool decks in Dayton, Mason, West Chester, Springboro, Centerville, Oakwood, Troy, Maineville, Lebanon, South Lebanon, Englewood, Yellow Springs, Beavercreek, Miamisburg, Waynesville, and Springfield, Ohio.
Pool Design
We also offer complete outdoor living space design that can incorporate the swimming pool, pool deck and landscaping all together. We work with our landscape architect and partner pool contractor to put together the total design. We can then manage the entire project including the installation of the swimming pool, landscaping, pool deck, and pool house.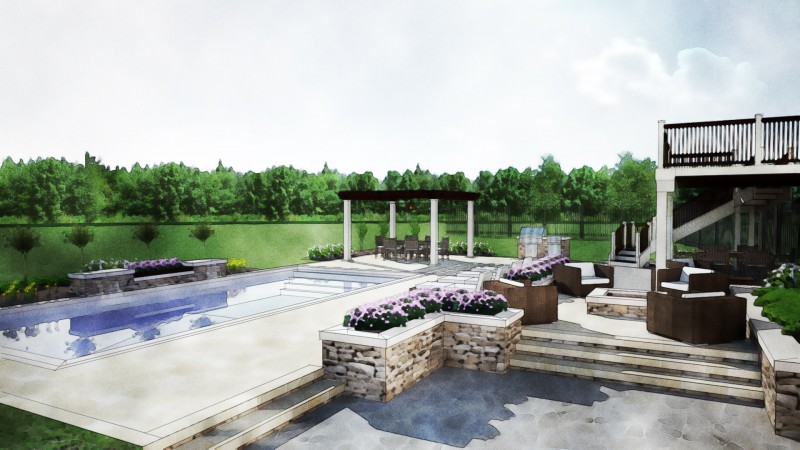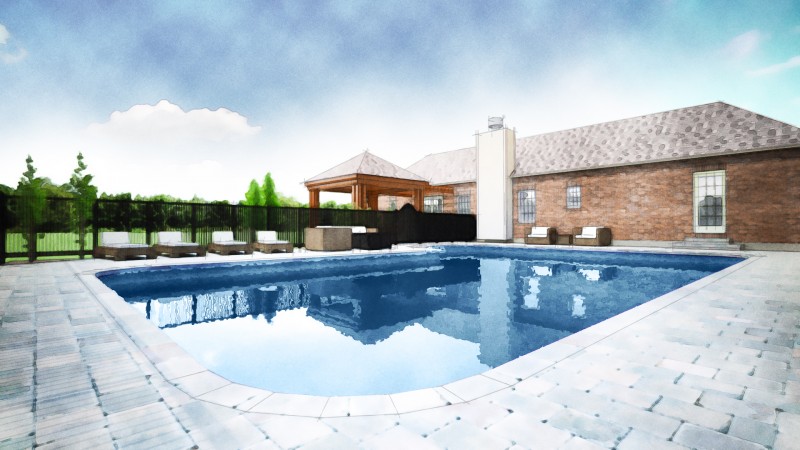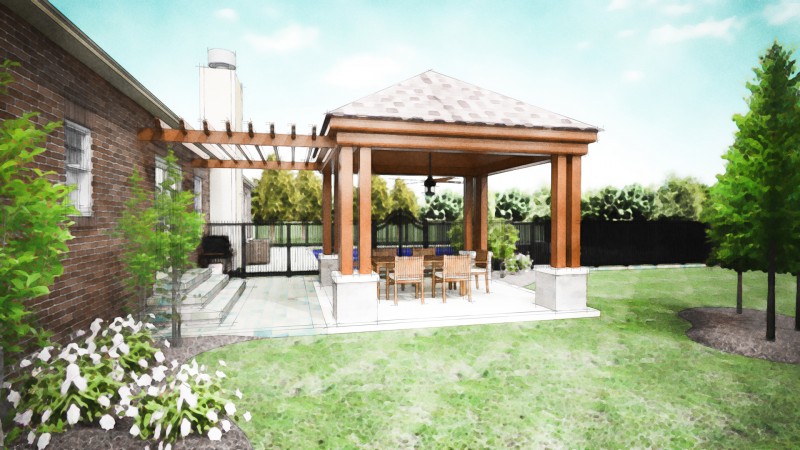 If you think that we would be a great fit for your project, please contact us.
January 20, 2013
Having a strong reputation for creating beautiful backyard patio designs, I'm often approached and asked what are some of the most important design elements or features that should be considered when designing a patio. Of course there are all different types of patios from simple to complex. But, for the sake of putting something in writing without boring you, I'm going to talk about general ideas to consider no matter what scale design you're planning.
Look for inspiration, not complete projects – I'm sure you can find 100 pictures in magazines that you love, but don't get too caught up on just one. You have the ability to create your own unique, custom space – why copy something else. I know they way we think, if it works why fix it, and that is true to an extent. What works in one backyard might not work in another. So, instead of searching pictures for The One, browse with the intent of finding individual elements you like from each picture/design you're attracted to. This way when we meet, you can say that you love the seating wall from this picture, the steps from this one, and the pavers from this one -etc. A good designer can take those recommendations and build an entire profile for you. A profile from which he or she will relate to when designing your entire space.
If you show me a picture and say, 'I want this exact patio', don't be too surprised if my design is a replica. And that's ok, if it's truly what you want.
Before you think shape, consider layout – The shape of a patio can sometimes be the difference between a good looking patio and the opposite. But, before you get too caught up in the shape, its important to think about layout. What is layout? Its the placement of spaces in your design. For instance where you will dine or where you will lounge. I like to walk a client through a scenario. This scenario is often the reason they're considering the patio in the first place. An example might be entertaining a large group or simply grilling and dinning outside. By taking the scenario step-by-step, we're able to get a 10,000 ft view and determine the best layout.
Don't get too caught up in the materials used, at least not yet – Don't think you need to know exactly what color and style of paver you want before you start the design process. Relate this to building a house. You probably wouldn't discuss what tile you wanted in your kitchen on your first meeting with the builder. Instead you would discuss things like how many bedrooms, what style of homes appeal to you, approx square footage, location, etc. The same applies to a patio. I have an entire process I take each of my clients through to maximize each area of the design and finished project. A successful project, one that you won't grow out of and that won't go out of your style, will need to be well planned and thought out.
I believe in design perfectionism – an idea that good design is often found in the smallest of details, and balance can rest on the shoulders of just a few elements. It is with this mindset that I approach every project, striving to help each of my clients achieve their goals.
If you would like to meet with me to design your project, I'm ready.