July 9, 2021
Over the past few years, polymeric sand and joint stabilizing paver sealer has become more and more popular. At Two Brothers Brick Paving, we prefer to use a joint stabilizing paver sealer over polymeric sand whenever possible. For the most part, they achieve similar results in the joint – keeping the sand in tact. In this article, I'm not going to discuss the pros and cons of paver sealer vs polymeric sand (I've already done so in an earlier article on polymeric sand), instead I'm going to share with you how to properly install paver sealer. Note that our sister company, Perfect Paver Co, offers paver sealing in Dayton, Ohio.
Step 1. If you're sealing a paver patio that's been down for sometime, you'll want to make sure and remove all vegetation growing in the joint. This can be done usually by pressure washing with a high psi pressure washer. You should be able to blow the vegetation right out of the joint.
Step 2. Clean the pavers. Almost always, we recommend pressure washing pavers before sealing. It will require that you do step 3, however, it will achieve the best end result. Using a 3500 psi pressure washer and a fan style tip, take your time going over every square inch of the pavers. If needed, go back over a second time. Just make sure to hold the pressure washing wand about 8″-10″ away from the pavers because if you get too close you can cut grooves in the pavers. Again, make sure you're using a fan tip and not a jet tip. If you have rust stains or any other stains that won't come out, try cleaning with a general purpose cleaner sold by Surebond.
Step 3. After the pavers have dried for at least 24 hours in direct sunlight (may take longer in shaded areas or cooler times of the year), you're ready to re-install the joint sand.
Advanced Version: We recommend that you fill the joints with the same course sand that was used for the setting bed (what the pavers are laid on top of) to fill up the joint. This can be difficult to do without a vibratory plate compactor as the size of the sand is a bit larger than most paver joints. The vibratory plate compactor will vibrate and force lodge the sand into the joint. Most gravel distributors will carry this sand; they call it concrete sand or course sand. You will need about 1- 5 gallon bucket of this sand per 100-200 square feet of pavers. You'll want to evenly spread the sand out over the patio covering every square inch. We use a base rake but you can use a push broom. Take the top of the broom and put it one the pavers creating a plow affect. Push the broom around upside down going back and forth over the pavers until the sand is evenly spread over all the pavers (about 1/8″ thick). If your sand is wet or damp at all, you will need to spread your sand out first so that the sun can dry it out. Then you will be able to broom it around easily to get the even layer.
Once the patio is covered with a consistent layer of dry sand, you're ready to compact. Using a vibratory plate compactor, go over top of all the pavers. Spread the sand back out with your broom and go over them one additional time. Now sweep off the sand and the joints should be full. You'll want to remove the sand so that the sand is just below the sharp edge of the paver aka the chamfer. For tumbled pavers that don't have a sharp edge, we recommend that the sand be about 1/16″-1/8″ down from the edge of the paver. You can use a blower to achieve the desired level of sand in the joint. Blow off the patio very good when you're done to make sure there are no particles of sand sitting on top of the pavers.
Simple Version: If you lack the tools and time needed for the advanced version, you can go about it this way and achieve a similar result. The only down fall is that the sand that you must use is smaller and can easily gets removed from the joints in time.
After you've completed step 2, you'll need to get sand back into the joints. In this simple version, you can use mason sand or fine sand. Most Home Depots will sell bags of Quikrete Mason Sand in the same isle as the bagged concrete. You can also get mason sand from your local gravel company in bulk form. If you're getting bags, you'll need about 1 bag per 100 square feet. This sand is much finer and will fall right into the paver joints making it easier to fill the joints without the use of vibratory compaction equipment. Sweep the dry sand (must be dry and the pavers must be dry) into all of the joints keeping the sand about 1/16″ – 1/8″ down from the edge of the paver. When all of the joints are filled, use a blower to remove any excess sand sitting on top of the pavers.
Step 4. You're now ready to apply the paver sealer. Just make sure that the pavers are 100% dry, the sand in the joint is 100% dry and there is no rain in the forecast for at least 24 hours. The paver sealer we use most often is made by Surebond and it's called SB-1300. It's a water based sealer that penetrates into the surface of the paver and also has the bonding additives that will harden the sand joint. You'll need a pump up sprayer and a squeegee.
Fill your pump up sprayer with the paver sealer – do not dilute. Start spraying the paver sealer directly on the pavers at a rate of about 80 square feet per gallon. Once the paver sealer starts to pool in the joint, you'll know you're ready to move on. It's best to have a second person running the squeegee. The idea of the squeegee is to pull the paver sealer from the top of the pavers down into the joints as you want about 75% of the sealer in the joints to fully harden the sand. Pretty much as soon as you start spraying, your squeegee person should start squeegeeing. If you we're using a paver sealer that isn't a joint stabilizing sealer, then you wouldn't need to use the squeegee and you could pretty much just spray on the paver sealer with a much higher coverage rate.
Here is a video done by Surebond to show how its done. //www.youtube.com/embed/HZpnYnBAfd4
Best of luck with your paver sealer project. If you would like to speak with us about sealing your project for you, please don't hesitate to contact us here. We offer paver cleaning and sealing services in Dayton, Cincinnati, and Columbus areas.
Have a question? Leave us a comment!
July 11, 2020
As a professional hardscape installer that specializes in paver patio installation, we're often asked during the design process if we recommend the pavers get sealed. The answer really depends on what the clients expectations are from the sealer. Unlike a deck or stamped concrete, sealing pavers is primarily for added aesthetics and decreased maintenance.
Will my paver patio fall apart if it's not sealed?
The answer is kinda. Let me explain. When we seal pavers, we often use a sealer called a joint stabilizing sealer. This sealer has an epoxy additive that soaks into the sand in the joints of the pavers and turns the sand hard like mortar when it dries. Now, the sand will stay in the joints and not get washed out when it rains or when you wash the pavers.
How does this keep my paver patio from falling apart? Without getting too technical, one of the main reason pavers are called interlocking pavers is due to the sand that's lodged into the joints. If this sand is washed out, the paver patio will start to loose its integrity and eventually start to fall apart.
Will sealing pavers keep them cleaner?
The answer to this is absolutely yes. When pavers are sealed, the sealer fills up the pores of the pavers making any dirt that hits the surface stay on the surface and not penetrate the paver. Making it much easy to clean off the paver patio. Of course, it's extremely important to clean the pavers very good before you seal them. Any dirt left on the surface when you seal will get sealed in place. We recommend using a good paver cleaner prior to cleaning like the one in our sealer installation instructions below.
What type of sealer should I use to seal my paver patio?
This is a good question. In most cases, we recommend that pavers be sealed using a water based joint stabilizing sealer. The water based sealers won't build up on the surface like solvent based sealers do. Water based sealers won't show wear/traffic patterns like solvent based sealers do. Water based sealers are much easier to apply than solvent based sealers and require much less clean up during installation.
The joint stabilizing part of the water based sealer is recommended for most pavers. However, if the joint between the pavers measures more than 1/4″ we don't recommend using a joint stabilizing sealer. You can still use a water based paver sealer, just make sure it doesn't have the joint stabilizer. In the sealer installation instructions that we sell below for $20, we'll tell you the best sealer you can get for your pavers.
How often do I need to reseal my pavers?
This will depend on how much traffic the patio receives. Typically, we recommend sealing pavers about every 3-4 years on average. You'll know when it's ready to seal. When the weeds begin returning a lot in the joints and the pavers start to lose some of their color, its time to seal again.
How to seal pavers
This is probably the most important question. Sealing pavers is not difficult to do, if you know what you're doing and if you use the right sealer and installation technique (we share both with you in the instructions below for only $20). Because we feel that we've perfected the art of sealing pavers, we've written a very easy to follow set of instructions on how to properly seal pavers. Along with the instructions, we'll also share with you what sealer and cleaner we recommend that you use.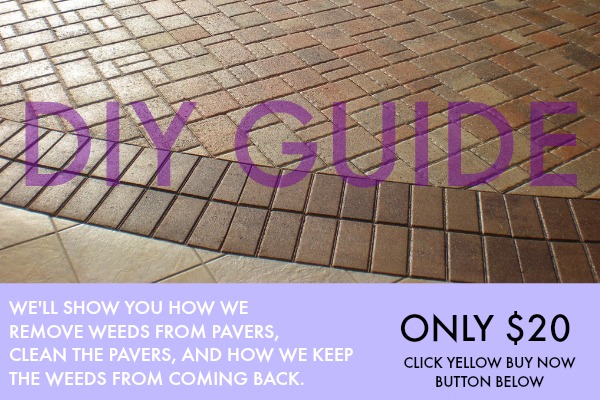 Buy our DIY Guide on how to properly seal your paver patio or paver driveway and what for $20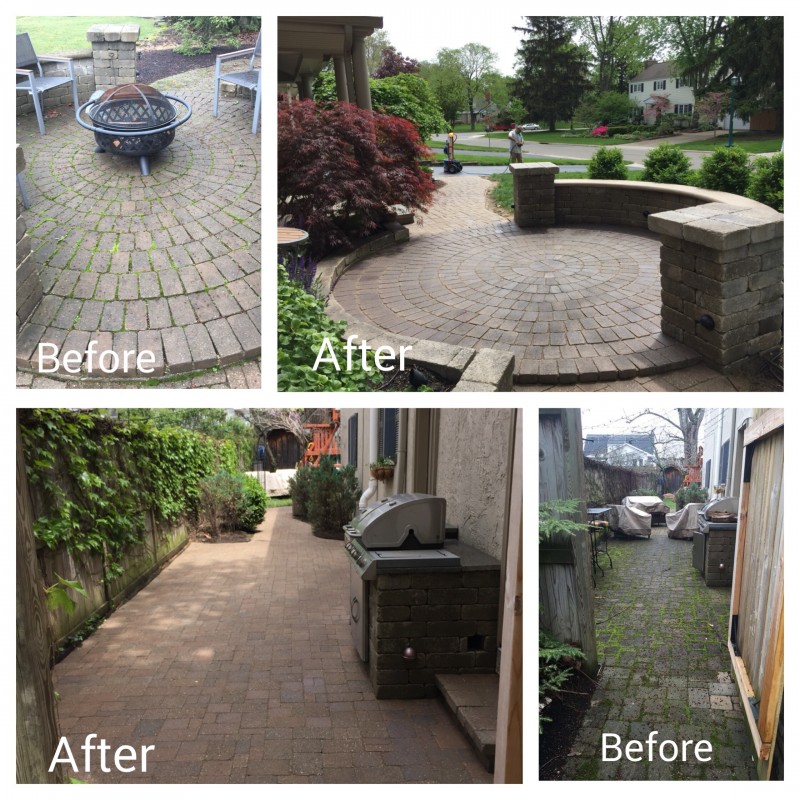 This guide will show you step by step how to properly seal your pavers. It also includes links to the sealer we recommend that you use as well as cleaning products and weed killer that won't harm or stain the pavers (you'll need to kill all the weeds before you seal). The instructions will also show you how to eliminate any weeds that are currently growing in the pavers and how to properly clean the pavers before sealing.
If you would like to buy our sealer instruction guide for $20, simply click the yellow button below. Once payment is made, you'll receive an email from us with the instructions. The email is sent out automatically, typically within a couple hours of purchase but usually much sooner.
BUY NOW and Save HUNDREDS. This is a weekend project for the average size paver patio.
Buy DIY Paver Patio Sealer Guide
Testimony:
Hi Mark – we ordered your instructions on fixing and sealing our patio brick pavers. Our patio is 17 years old and needed some help. We just finished our project and although not professionals, we can't believe how great it looks. Our pavers sparkle in the sunlight and the sand in the seams is rock hard. Your process couldn't be easier and even though contractors around here said we should us that other sand that hardens, we read too many bad reviews about it. Dont have a before picture but it truly wasn't pretty – lots of gaps, moss and weeds from chipmunk damage. Thanks so much for sharing your method. Here's a picture.[/box]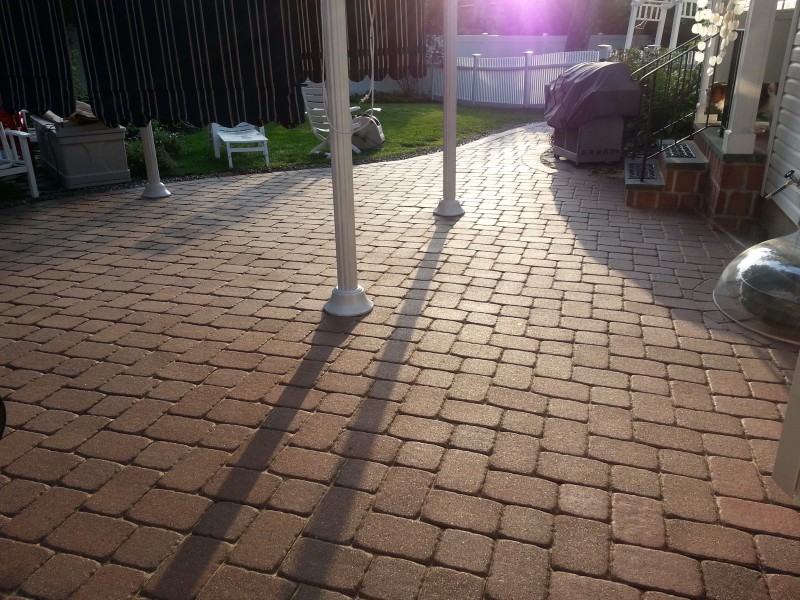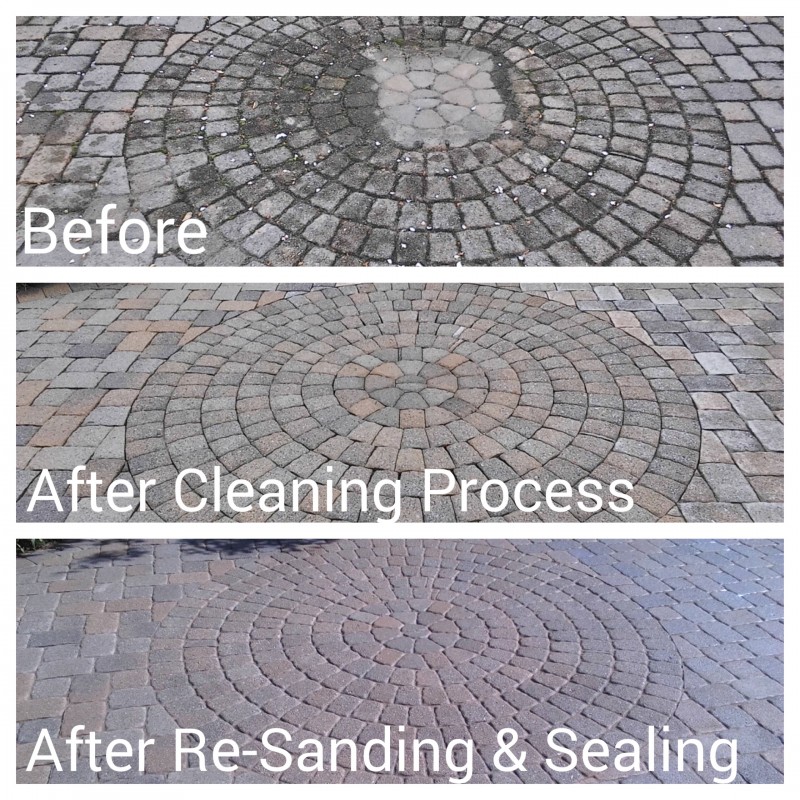 Our DIY Guide is for All Skill Levels
August 6, 2017
If you're in need of natural stone or paver repair, paver cleaning or paver sealing in Naples, Bonita Springs, Ft Myers, Estero and surrounding areas, our sister company The Perfect Paver Co of Southwest Florida is amazing. If you're unfamiliar with their innovative steam cleaning process, you'll be blown away with how clean they can get your pavers and natural stone.
Perfect Paver Co of Southwest Florida is more than just your typical paver clean and seal company. They specialize in more of a complete restoration of pavers. This includes making necessary repairs, stripping and removing failed paver sealer, cleaning out the joints between the pavers to remove organic build up (organic buildup in the joints is the leading cause of mold growth on pavers), installing polymeric sand in the joints and sealing pavers and natural stone to enhance and protect.
Travertine Pavers
Travertine pavers have become extremely popular in Florida and they are a great choice for your pool deck. If you have travertine pavers, you've probably realized they come with some maintenance to keep them looking great.
Although travertine pavers don't require sealing to keep them from losing their color or from surface deterioration, it is strongly suggested to seal your travertine pavers if they're around a salt water pool. The salt in salt water pools can cause deterioration in the travertine over time. This can be very costly to fix.
In addition, sealing travertine makes it more difficult for mold to grow in the pores. The Perfect Paver Co also installs polymeric sand in to the joints of travertine, which will keep your pavers from becoming uneven. Empty joints in travertine pavers allow rain water from heavy rains to erode the sand setting bed beneath the pavers. Polymeric sand in the joints will prevent this from happening.
If you need your pavers sealed or repaired, please contact Perfect Paver Co of Southwest Florida today:
Perfect Paver Co of Southwest Florida
Phone: (239) 533-0035
Services We Provide:
* Paver Sealing
* Paver Restoration
* Paver Repair
* Paver Cleaning
* Polymeric Sand
* Travertine Sealing
* Travertine Repair
* Travertine Paver Restoration
Connect With Us Online:
September 1, 2013
There' s nothing more frustrating than having weeds growing between the joints of pavers. Before you know it, the weeds can take over and be almost impossible to remove.
I'm going to share with you a step-by-step way to remove the weeds between pavers, but before I do I want to talk about how the weeds got there in the first place.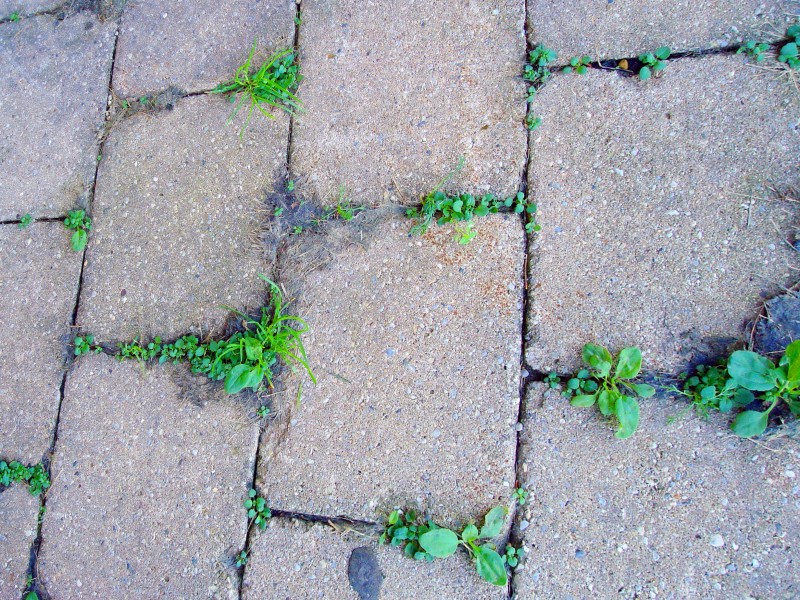 How do pavers get weeds in the first place
In my years, I've heard many explanations of where the weeds come from. In most cases, they were wrong.
The #1 misconception is that the weeds come from beneath the pavers. People that believe this, will ask us to install a weed mat beneath the pavers prior to installing them. However, this is not where the weeds come from and this certainly is not how you keep weeds from growing between your pavers.
99% of the time, weeds in pavers start from seeds blown in from weeds that are around the patio. Chances are, if you have lots of weeds in your pavers you probably also have lots of weeds in your yard. If you don't believe me, see how Colorado State University says weeds start growing.
If your lawn is free of weeds, the seeds could be blowing in from your friendly neighbors yard. Once you have a couple weeds in your patio, they will start to spread. Some types of weeds like crabgrass can spread and take over your entire patio.
How to get ride of weeds in pavers
Before I share how we remove weeds from pavers, I want you to know that a properly installed paver patio will not grow weeds near as easily and if you follow the "How to keep weeds from growing between pavers" instructions at the bottom of this article, your patio wont grow weeds either.
I also wanted to note that weeds love a cool, damp environment. If your patio doesn't have adequate slope to drain the water off the patio when it rains, chances are the sand in the joints will remain damp making them a thriving place for weeds to germinate and grow. If this is you, you'll definitely want to get our "How to keep weeds from growing between pavers" instruction manual.
Step 1: Kill the weeds
There are many ways that you can kill the weeds between pavers. Bleach and Round-Up are a couple options, but we don't like either of them for multiple reasons. They both are harmful to the environment, and the bleach can discolor the pavers. The solution, white vinegar. Crazy, I know.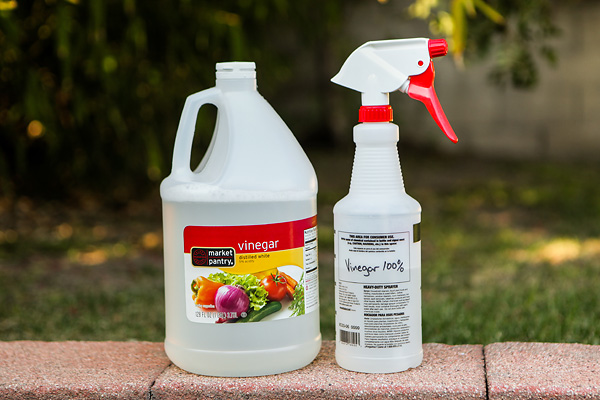 You'll first want to do a test spot just to make sure the vinegar doesn't discolor the pavers. Vinegar does have a small amount of acid, however, it's usually not enough to affect the pavers. I still recommend that you do a test spot.
To do your test spot, spray the vinegar in a 2'x2′ area of your pavers. Wait a couple hours, then rinse off the pavers. If you don't see any discoloration, you're good to go.
We recommend using a pump up weed sprayer for larger projects. Empty the white vinegar into your sprayer and spray the weeds. Let it sit for a couple hours. Then rinse away.
Step 2: Remove the dead weeds
We remove the weeds by using a pressure washer. Typically, when we're removing weeds from pavers for a client, we're also looking to clean the pavers. A Pressure washer is great for doing both. We use both a spray wand and also a rotating surface cleaner attachment for the pressure washer. Both of these can be rented from most tool rental stores for less than a $100 per day.
Here is rotating surface cleaner attachment for pressure washers.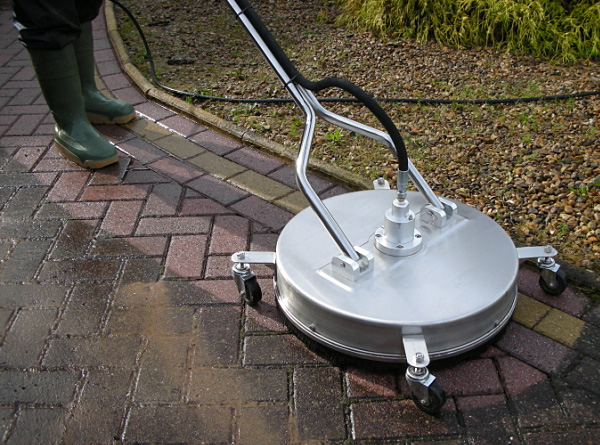 If your project is a larger area, you can save yourself a lot of time and achieve a better end result by utilizing one of these. However, you may still need to use the regular pressure washer wand to remove stubborn dead weeds from the pavers. The rotating surface cleaner does an amazing job at cleaning the pavers also.
You will NOT want to use the jet nozzle of the pressure washer as this can etch and cut grooves into your pavers. Instead, use one of the fan nozzles. Hold the nozzle about 12″ away from the pavers focusing on the joint. You'll goal is to spray out the weed from the joint. If your joint is full of silt/dirt, you can also go ahead and blast that out.
Warning: Your pavers are setting on a bed of sand. If you're not careful, you can blast the sand from beneath the pavers right out the joint. Once the weeds are gone from the joint, be sure to move on to the next one.
Keep the weeds from coming back
After you've invested all this time an energy in removing the weeds from your pavers, the last thing you want the weeds to do is return. The problem: unless you do anything about it, they will. We've developed a step-by-step system that you'll want to do right after you finish removing the weeds from the pavers to keep the weeds from coming back. In addition, this process will enhance the look of your pavers almost making them look new again.
We charge our customers about $2 per square foot of pavers for this service, however, if you're not located in our service area (Southern Ohio), we would be happy to share this process with you – which will save you hundreds. We just ask that you pay us a small fee for the time we've invested putting this together. In addition, we will be happy to answer any technical questions that you have after you've purchased the step-by-step program.